Nags Head Inn, 102 Borough High Street, Southwark St Saviour, Surrey, London
Southwark St Saviour pub history index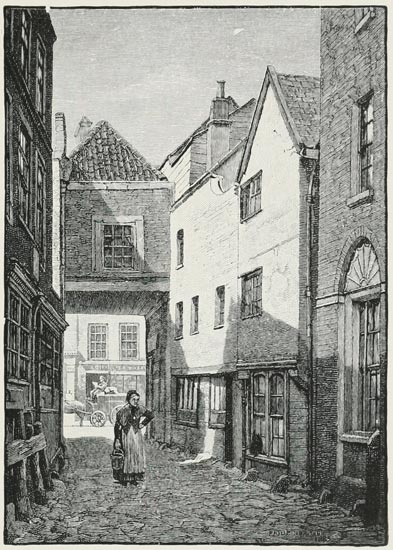 No. 10. THE NAG'S HEAD INN YARD, SOUTHWARK.
In the map of Southwark dating from about 1542, this inn is called the Horse Hede.
In 1720 Strype says that "the buildings are old and sorry with inhabitants answerable."
The inn standing in 1886, of which only a small part is shown to the right of the drawing, looks as if it were built not much more than a hundred years ago, but it will be seen that the tenements on the same side next the High Street were much older. Here Andrew Ducrow, the great equestrian performer, is said to have been born, May 12, 1796. His parents had just arrived from Germany. George Colman, the younger, in his "Poor Gentleman," a comedy produced at Covent Garden in 1801, makes a farmer say:—"I be come from Lunnon you see. I warrant I smell of smoke, like the Nag's Head chimney in the Borough."
The inn was well spoken of in a little book called the Epicure's Almanac, published in 1815; there were balls here sometimes in the earlier half of the last century. The tavern business is no longer carried on, the yard and premises being in the hands of the Great Western Railway Company. The building over the entrance to this yard remains, but all those on the north side, that is to spectator's right, including the inn, disappeared some years ago.
At Nags Head yard in 1881, and at 137 High Street in 1882. This starts out addressed as at Nags Head Buildings in 1848. The 1851 directory places this at 102 Borough High Street as the Nags Head Inn & Booking Office
A listing of historical London public houses, Taverns, Inns, Beer Houses and Hotels in Southwark St Saviour, Surrey, London.
Residents at this address.
1789/John Clark/innholder, Nags Head/../../Sun Fire Office records held at the London Metropolitan Archives *

1811/Henry Wissendon, Nags Head Inn, Borough/../../Holdens Directory

1817/H Wissenden/ Inn holder/../../Johnstones London Directory

1821/John Harris/innkeeper/../../Sun Fire Office records held at the London Metropolitan Archives *

1822/John Harris/../../../Victuallers Recognizance

1823/John Harris/../../../Victuallers Recognizance

1825/John Harris/../../../Victuallers Recognizance

1826/John Harris/../../../Victuallers Recognizance

1832/John Harris, Nags Head Inn, Borough High street, Southwark/../../Robsons Directory

1841/Mrs Mary Harris/../../../Post Office Directory *

1842/Mary Harris/../../../Robsons Directory

1848/John Harris/../../../Post Office Directory

1851/John Harris/../../../Kellys Directory

1851/John Harris/Inn Keeper/46/Hove, Kent/Census
1851/Prudence Harris/Wife/49/Spilsby, Lincolnshire/Census
1851/Mary A Harris/Daughter/22/Southwark, Surrey/Census
1851/John Harris/Son, Clerk/21/Southwark, Surrey/Census
1851/Charlotte Harris/Daughter/19/Southwark, Surrey/Census
1851/Alfred Harris/Son, Clerk/16/Southwark, Surrey/Census
1851/William Shrubsole/Visitor, Corn Merchant/40/Sheerness, Kent/Census
1851/Thomas W Hilder/Visitor, Hop Merchant, Widow/77/Hailsham, Surrey/Census
1851/Susan Harding/Cook/21/Maidstone, Kent/Census
1851/Eliza Wedley/Housemaid/28/Croydon, Surrey/Census
1851/Eliza Richardson/Housemaid/18/Bletchingley, Surrey/Census
1851/John Lilley/Waiter/28/Canterbury, Kent/Census
1851/John Delves/Porter/20/Edenbridge, Kent/Census
1851/Frederick Sawyer/Ostler/27/Dover, Kent/Census
1851/James Martin/Ostler/27/Keston, Kent/Census

1856/John Harris/../../../Post Office Directory

1861/Prudence Harris/Inn Keeper & Carrier, Widow/59/Spelsbury, Lincolnshire/Census
1861/Mary Ann Webster/Daughter, Widow/32/Southwark, Surrey/Census
1861/Alfred Harris/Son, Clerk at Booking Office/26/Southwark, Surrey/Census
1861/Prudence C Webster/Grand Daughter/5/New Cross, Surrey/Census
1861/Mary Ann Webster/Grand Daughter/17 months/Southwark, Surrey/Census
1861/Catharine Dowding/Cook/28/Dublin/Census
1861/Jane Arnold/Housemaid/22/Newington, Surrey/Census
1861/Anne Neal/Nursemaid/15/Cork, Ireland/Census
1861/John Drew/Waiter/23/Margate, Kent/Census
1861/Thomas Chapman/Hostler/23/Dover, Kent/Census
1861/Frederick Sawyer/Hostler/24/Dover, KentCensus
+ Lodgers

Era - September 27 1864 :
Nags Head Inn, High street, Daniel Higgs to William Harris Lake

1869/Mrs Prudence & Alf Rt Harris/../../../Post Office Directory

1881/William Greenfield/Licensed Victualler/52/Petworth, Sussex/Census
1881/Ann Greenfield/Wife/55/Petworth, Sussex/Census
1881/Florence Blaber/Niece, Assistant//Petworth, Sussex/Census

1882/P & A R Harris/../../../Post Office Directory

1884/Alfred R Harris/../../../Post Office Directory




* Provided By Ewan