Many accurate 1921 census transcriptions have already been added to the pub history site, including London, and parts of Middlesex.
Pub history - A selection of my A – Z of London pub history
Here is a random selection of my A - Z of London pub history in one short site, as compared with the fifty thousand pages on my pubwiki, this is just a very small selection posted on a blog.
Historic London pubs starting with an A using my 1899 listing, and many others.
Aardvark. An African ant eater, so lets go for the African Tavern in Grundy street, Poplar. It was originally built in 1868, and one hundred and twenty five years later, in 1993, it was renamed the African Queen, as the pub had been purchased from Allied Breweries at this time.It closed in 2002, and a few years later looked like this, and still looks very similar even today in 2020. :
African Queen, 48a Grundy Street, Poplar - in September 2006.This entire area of Poplar, including Grundy street, was heavily bombed in the blitz of World War II, as can be judged from this view of the Grundy Arms, at 83 Grundy street, Poplar E14 in a desolate landscape.
Historic London pubs starting with the letter B, maybe one still open?
Well, that was hard work finding a named pub in 1944 which was still open into the 2000s. I found one contender, the Bull & Pump, at 72 Shoreditch High Street, Shoreditch E1.Well, you may remember it as having this name. It changed over the years into a venue better known as having a stage, for a variety of reasons.It is now known as the Rainbow Sports Bar, and has had previous names such as Pacificos and the Bull and Pump, obviously. Whatpub describe it as a gentlemans club, a strip club and no real ale. It's still open!
Bull & Pump, 72 Shoreditch High Street - in November 2006.
I could probably find a better picture of this place, but I think it sells itself, what do you think?
A classic and historic London pub starting with C, and a bit of nostalgia?
We have the California Arms, 12 Albert road, North Woolwich E16. Well and truly closed, but with a massive history.One of the earlier and influential families to run the pub were the Stemp or Stamp family. I think it was easier to use the Stamp name. John Stemp died in 1872 at the California Arms, East Ham road leaving under £450 in effects to his widow.Later, John and Ellen Stemp are at the Lads of the Village, Albert road in 1891 to 1905. Here is the The California, North Woolwich circa 1976. And also the California, 12 Albert Road, E16 - in October 2007. By 2010 the California has been completely demolished.
The California, North Woolwich c: 1976.
California, 12 Albert Road, E16 - in October 2007
Give us another C - c for planning consent towards Historic London pubs.
This was a pub needing listing here. It is the Carlton Tavern, 33 Carlton Vale, Maida Vale, Paddington NW6The Carlton existed from at least 1864. It was closed and demolished on 7th April 2015. The Carlton Tavern was demolished a day before the property was due to be listed with status. The Council has passed judgment that the pub now needs to be rebuilt exactly as before demolition.A week before the Carlton Tavern in Carlton Vale was 'pulled down' without permission a few years ago, I was passing and decided to have a pint there. I happened to have my Nikon camera with me that day and as I was the only person in the pub, apart from one regular, I asked the 'manageress' if I could take some photos and she agreed (Peter).All the pictures are available toview onthe pubwiki site.
Carlton Tavern, 33 Carlton Vale, NW6 - Licensee A Stribling
Carlton Tavern, 33 Carlton Vale, NW6 - demolished in April 2015
Give us a D - a world renowned bar and historic London pub?
Dirty Dicks, Bishopsgate. It is still open, and just opposite the entrance to Liverpool street at 202 Bishopsgate street and part of the Youngs chain.It has a host of history, and the name sums up this early history. In fact it is not the name for one bar, but a whole chain originally called William Barker & Son ( DDs Ltd).It is briefly summarised in 1983, as Dirty Dicks, a Free House. Founded in late 18th century by Nathaniel Bentley, who reputedly earned the name 'Dirty Dick by living in filthy penury after being jilted.If you want to know more, read the rules, no swearing, no smoking, one drink per customer only. Read here, how to get round this problem. It was earlier named the Old Jerusalem, and this was confirmed in an 1874 hoteliers directory when the earlier address was at 48 Bishopsgate before renumbering took place.This is rather typical of pubs naming conventions, which often fit the mood of the nation rather than worry too much about historical fact.
Dirty Dicks, 202 Bishopsgate - established 1745, circa 1940.
Name a Historic London pub with an E?
Enterprise, Eagle, or the East India Arms, yes that will do, it is only temporarily closed.Serving customers since at least 1829, but also the Magpie and Punchbowl, existed at 67 Fenchurch street in 1827 and earlier; taking it back to at least 1784 with Richard Hardacre between these earlier dates. Actually, the Kings Head address does not change in these earlier dates, at 53 Fenchurch street; and therefore this is all correct. and the address was always the same.
East India Arms, 67 Fenchurch Street - in September 2006
An open Historic London pub with an F ?
Fox, 1 Islington Green, Islington N1, latterly the Fox on the Green and also the Slug and Lettuce at some stage.Open by 1801 according to the early Sun Fire Insurance records; and although my list of licensees run out in 1938, it is clearly an open pub still.Here is the Fox, Islington Green and Upper street N4 - in 1906 with landlord August Krische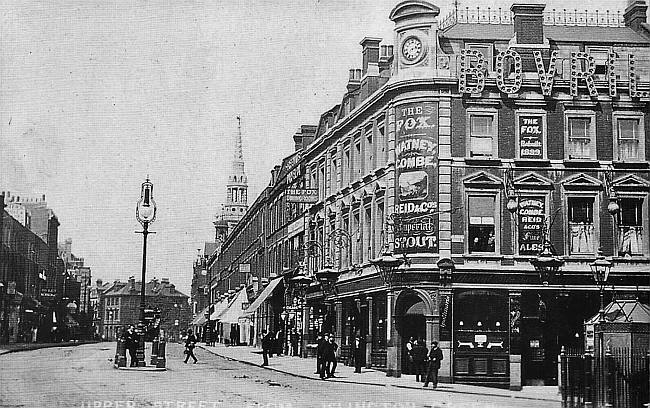 Are there any Green Men in pubs in London still open in 2020?
Yes, apparently the Green Man at 383 Euston Road, Regents Park NW1 3AU is still open but now the Greene Man.It exists from at least 1792, with an early address as New road, or Keppel row, New road.
Green Man, 383 Euston Road, NW1 - in April 2010
Give me an H, there are Historic London pubs meeting this criteria?
Once upon a time, there was the Hampshire Hog, at 227 King Street, Hammersmith W6. For a while it was named the Ruby Grand; but it actually existed from the seventeenth century. It was rebuilt in 1883, and still exists today (2022). It would appear that the Blackman family were licensees from at least the 1901 census, and still mentioned in 1933 when trading as R D Lambert.Hampshire Hog, King Street, W6
Hampshire Hog, King Street, W6
Historic London pubs with I as the first letter?
This was a tricky one, eventually finding the Imperial at 5 Leicester street, Leicester Square WC2H 7BL still open (apart from in Lockdown), a Greene King pub.The Boulter family were licensees for over 35 years from at least 1825.
Imperial, 5 Leicester Street, WC2 - in August 2007
A Historic London pub which begins with J?
The Jamaica Coffee House, which is actually a Shepherd & Neame pub, fits this need for maybe the wrong reasons. It is a grade II listed building, and was rebuilt in 1885.It does have a cklaim to fame as being opened in 1652 when the first coffee house was opened in St Michaels alley by Pasqua Rosee. There were in fact a few coffee houses in this alley, including the African, or Coles, Coffee house; as was the Cock and Lion alehouse. You can see these on the mapco plan of all The Houses Destroyed And Damaged By Fire Begun In Exchange-Alley, Cornhill in 1748, with St Michaels alley clearly marked at the top of this plan.Again, I may be incorrect, but Pepys does not clearly state he visited here, but rather to a Jamaica House in Bermondsey.
Jamaica Wine House, 12 St Michaels Alley EC3 - in July 2014
A historic London pub starting with a K?
Well, it is not actually a pub any longer, but a brilliant example to use as I can introduce the Layers of London site at the same time. Wow, what an amazing site of old maps, which can be layered, get the name.The pub is the Kentish Drovers & Halfway House, at 720-722 Old Kent Road, SE15 existing from at least 1805. It is grade II listed from circa 1840. Lets hope an over-ambitious workman does not apply a little too much force (harm) in the future.
Kentish Drovers & Halfway House, 720-722 Old Kent Road, SE15 - in May 2008
Historic London pubs - an elL of a London pub?
The Leather Exchange Tavern, at 15 Leathermarket Street, Bermondsey-West SE1 3HN is a Fullers pub still open in 2020.It existed from at least 1839, and is listed as the London leather warehouse Tavern, New Weston street in the 1849 license transfer and the Leather Exchange in Manning Street (later Market Street, now Leathermarket Street) in the 1881 census.The Pfeiffer family are here from at least the 1901 census, until at least 1965.
Leather Exchange, 15 Leathermarket street SE1
An important reminder of the Historic London pubs with letter M?
The Magpie & Punch Bowl, 86 Bishopsgate Street Within, St Ethelburga, City of London EC2 has been rebuilt at least once, and is probably closed at present due to lockdown.It is an important reminder of why we need the Good Friday agreement, and if we must have a BREXIT then lets keep this agreement working.The Magpie & Punch Bowl was bombed by the IRA in 1993. Lest we forget.
Magpie & Punchbowl, 86 Bishopsgate - in December 2006
Historic London pubs starting with N?
I could pick quite a few, but the Nell Gwynne Tavern, 1 Bull Inn court WC2 comes to mind, this is off of the Strand and existed by 1850, and probably not that long before this.There was also a Castle in this court, and much earlier was a Bull Inn which was visited by Pepys. That's it really, they all claim to have been the Bull Inn.I doubt if most drinkers at this Tavern really mind.
Nell Gwynne Tavern, 1 Bull Inn Court, WC2 - in March 2013
O in Historic London pubs, what pub art thou?
Its the Old Tigers Head, 351 High Road, Lee SE12 which is just about ticking over and needs your business like evry other pub still open; and serving up Marstons.The pub was famous for its bowling green. Horse races were also held at the rear of the Tigers Head and attended by many of the lower classes from London. There were many accidents at these races, to both to man and horse. One year a Greenwich pensioner was killed on the course, near the grand stand, at the back of the Tiger's Head garden, and this event put an end to them being again held there.
Old Tigers Head, High Road, Lee - in 2015
Old Tigers Head, 351 Lee Road, Lee - circa 1906
The P in Historic London pubs can only be ?
The Parrs Head, 73 Plender Street, NW1.You may notice one of my regular contributors who has provided masses of their own personal history, and of their ancestors on the pubwiki site, this is probably John's most important public house, being run by the Carnaby family for some considerable time.The Parrs Head was open for at least 150 years, and Mr ans Mrs John Carnaby ran the establishment from at least 1924 until about 1970.One link I have never really researched is the links with Henry Finch, whose name pops up on the site everywhere!I will not repeat all of the history of this establishment, as the web page tells its own story thanks to John Carnaby.I will share one thought. :"After exactly 150 years of business the pub finally closed at 7pm on Monday 24th October 2011. One of the the regulars commented "while the glasses were dry, the tears were not".
Parrs Head, 73 Plender Street, Camden Town NW1 - in 1937
Another public house with a P?
Then there is the Prospect of Whitby at 57 Wapping wall, in Shadwell. It is alleged to have been built in 1520. It sits next to the Pelican stairs, and was named the Whitby Town as described between at leat 1805 and 1851.It was originally called the Devils Tavern, although I have not seen proof of this. I am sure this looks different now, but some nice shots of the back of the pub from the river are as follows:
Prospect of Whitby by W Fairclough - in 1941
Prospect of Whitby, Wapping Wall caricature - circa 1928 - J K Popham
Can you suggest a Q in Historic London pubs ?
Lets try the Queen Adelaide at 483 Hackney road E2. It was a classy looking pub which existed pre-Victoria in 1834 and maybe earlier.By 2006 it was a gentlemans club, although this appears to have recently been changed back to a public house ?Stranger things happen.
Previously the Queen Adelaide, 481 - 483 Hackney Road - in February 2019
Give me an R for a public house in 2020.
There are still pubs open in 2020? They certainly are struggling, as is the entire hospitality industry. Railway Tavern, 15 Liverpool Street, Bishopsgate EC2M and very close to Liverpool street station.A foundation date of 1736 is usually given for this pub, which was rebuilt in its present form in the 1850s. Before the coming of the railways it was called the Cow House. [The first steam London railway was in Greenwich in 1836.]It is a Greene King pub, and currently closed due to covid restrictions, but hopes this may change by Christmas! I think we are all looking for some light at the end of this very dark tunnel, and perhaps better leadership of the country; and less mixed messages. And brexit hasn't been cancelled yet, whose half baked oven ready stupid idea was this.
Railway Tavern, 15 Liverpool Street - in December 2006
An S in a name of a public house that was still trading in 2020.
The Salmon & Ball, 502 Bethnal Green Road E2 with its earlier address of Cambridge road.It is a listed building, and existed from at least 1760 according to records of licensees, but actually from 1733.
Salmon And Ball, 502 Bethnal Green Road, Bethnal Green E2 - in June 2018
Name a public house starting with That once served Youngs special and winter warmer?
The Tiger, 245 Wick Road , Hackney E9; it was once a wonderful Youngs pub reopenened by July 2020. Now run by a small pub chain.
Tiger Tavern, Kenworthy Road, / Wick Road, Hackney - in September 2005
Are there any London pubs starting with an U? United ?
All the Unicorns are dead. The Union Jack at 225 Union street SE1 was a recommendation although I do not currently have a picture. I will pinch one from google maps.
It was earlier called the King of Prussia until about the time of the first world war. The name then became very uniked because of its germanic links, and was renamed. This happened everywhere in the British Isles. It is still open today as the Union Jack, apparently; with current covid restrictions.
The Union Jack, 225 Union street SE1 in google maps.
Are there any London pubs starting with an V? Valiant ...?
How about the Valiant Trooper, in Goodge street W1? The public house existed from at least 1805 according to an early Holdens directory when Edward Fryer was the licensee.
It is apparently now called Fitzrovia. According to whatspub it was originally the Valiant Trooper from 1766. It was rebuilt in 1935 by Watneys, and became an Irish theme pub, Finnegans Wake, by 2002.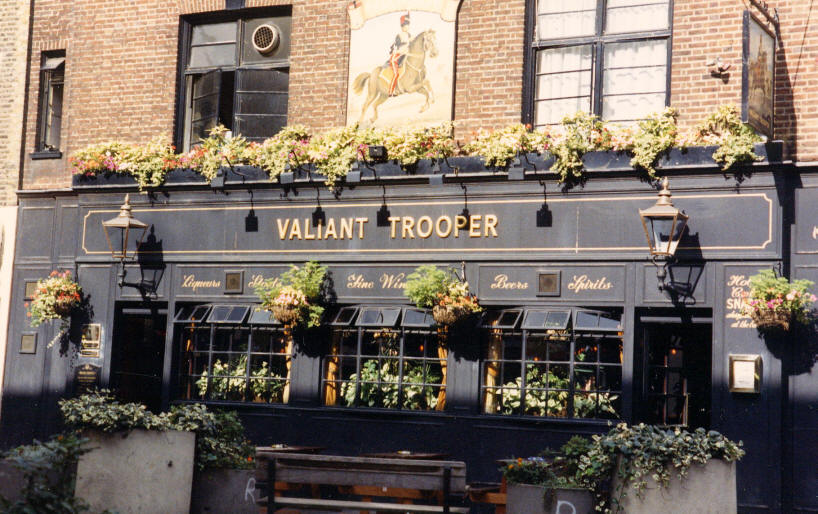 Valiant Trooper, 18 Goodge Street, St. Pancras, W1T 2QD
Are there any London pubs starting with an W?
It has to be White something, a horse, a lion, a hart, a stag, a ferry, a swan??